by Rincon-Vitova Insectary
Broad Mites (Polyphagotarsonemus latus)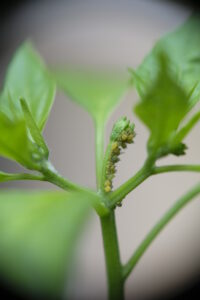 This destructive pest lives on a wide host range. Broad mites secrete and inject a toxic growth regulator into plants as they feed. The toxin causes twisted, hardened and distorted growth and terminal leaves and flower buds become malformed. The reason broad mites are such a problem is they often go unnoticed until they are out of control. Damage can resemble watering deficiency, herbicide damage, a viral disease, micronutrient deficiency or pH imbalance.   
Identification
Adults are almost microscopic (less than 0.2 mm long), oval, and look swollen in profile  
Light yellow-amber or green (females have a light, median stripe. Males lack the stripe).  
Two hind legs of adult females are reduced to whip-like appendages.  
The male is smaller and faster moving than the female. The male's hind legs are enlarged for mating  
Eggs are colorless, translucent, elliptical and covered with scattered white tufts on the upper surface   
Life Cycle 
Broad mites reproduce prolifically between 70-80º F.  
Eggs hatch in two-to-three days and each female can produce 40-50 eggs.  
Female broad mites lay 30 to 76 eggs on the leaf surface. 
Un-mated females lay male eggs; mated females usually lay four female eggs for every male egg.  
The larvae hatch in 2 or 3 days, are slow moving and do not disperse far to feed.  
In 2 or 3 days, the larvae develop into a quiescent larval stage.  
Quiescent female larvae become attractive to the males, who pick them up and carry them to the new foliage. 
Females emerge & males immediately mate with them.  
Males live 5 to 9 days; females live 8 to 13 days. 
Monitoring 
Broad mites are so small – virtually invisible on the host plant even with a good hand lens. 
A 60-100x microscope is best to observe broad mites. 
Mites are usually seen on the newest leaves and terminals.  
Mites tend to crowd into crevices and buds and feed on the growing tips. 
Populations of broad mite tend to be most severe in warm, humid conditions. 
Leaf edges tend to cup up or down, become brittle and show signs of scarring. 
Leaves generally curl near the base at the petiole.  
The entire plant will lose its vibrant green color. 
Internodal growth is stunted and overall growth is underdeveloped.  
New growth can blacken and die.  
Cultural Practices 
Broad mites are difficult to control with sprays because they are protected by their habit of feeding in buds or within distorted tissue. 
Hot water treatments can control the mites without injuring the plants: use water at 109.4-120.2°F for 15 minutes. 
Heat treatments: Raise room temp to 115°F for 20 min to 1 hour. 
Take measures to improve overall plant health: compost, compost tea, beneficial microbes to support the plants 
Dust with Diatomaceous Earth: these jagged particles cut the insects and expose to desiccation & disease. It will need to be reapplied as it gets wet. [DE particle size: 10-200 micrometers (μm). Males are 100 μm, females are 200 μm]. 
Plant bean, eggplant, pepper trap crops 
Use Soap & Oil Sprays 
Avoid using pesticides: Triazoles (myclobutanil), spiromesifen, abamectin 
Abamectin: active ingredient occurs naturally, is derived from the soil micro-organism, Streptomyces avermitilis. 
PyGanic is a broad-spectrum insecticide, containing Pyrethrin that is organically compliant. 
Spider mites exposed to carbaryl (Sevin) in the laboratory reproduce faster than untreated populations.  
Carbaryl/some organophosphates/some pyrethroids favor spider mites by increasing levels of Nitrogen in leaves, which stimulates spider mites' reproduction. These materials are highly toxic to natural enemies and pollinators  
Can cause spider mites to become abundant and damage plants after its application. Insecticides applied during hot weather usually cause dramatic spider mite outbreaks within a few days. 
Cinnamaldahyde, extracted from cinnamon also kills beneficial insects 
Bio-Control 
Predatory mites  
Application Rates: 
A good guideline is that one predator is needed for every 10 spider mites to provide control. 
More than one application may be required if you want to reduce pest populations rapidly.  
Concentrate releases in hot spots where spider mite numbers are highest.  
Once established on perennials, predatory mites may reproduce and provide biological control indefinitely  
Re-augmentation required if nonselective insecticides are applied (which kill the predators).  
Neoseiulus californicus: Persea, Avocado-Brown, Two-spotted spider mite, Pacific, Broad, Cyclamen, Eriophyids 
55°-105°F 40%-80% RH 
*Best in warm/humid conditions   
*Tolerate hot/dry G.H.                            
*Susceptible to pesticides    
*Eats other predatory mite eggs (especially Persimilis)   
Amblyseius fallacis (=Neoseiulus fallacis): Tetranychid mites, European & citrus red, Two-spotted spider mite, Spruce, Broad, Cyclamen, Pacific, Bamboo, Southern red, Bank's grass mite 
48°-85°F >50% RH  
*OK w Persimilis & Stethorus   
*Can reproduce at cooler temps    
*Can overwinter under snow    
*Best in dense canopy  
*Avoids webbing    
*Can survive at low pest densities   
 Scolothrips sexmaculatus: Six-spotted thrips: this is a predatory species of thrips 
Adults and larvae are entirely predaceous, feeding on European Red mite, cyclamen, and Tetranychus species. 
Predaceous adults can be distinguished from phytophagous thrips by three dark spots on each wing cover  
Adults are mostly pale-yellow adult.  
Nymphs are translucent white to yellow and difficult to discern from other thrips species.  
Six spotted thrips can rapidly reduce high populations, but don't become numerous until after mites have become abundant and damaging. 
Application Rates: 
500-2,000 per acre 
Summary of Strategies 
Diligent monitoring and early detection! 
Sanitation! 
Overall plant health 
Diatomaceous Earth  
Bean, eggplant, pepper trap crops 
Soap & Oil Sprays 
Heat treatments 
Beneficial Insects